On August 5, 2019 Ambassador Extraordinary and Plenipotentiary of the Republic of Belarus to the Arab Republic of Egypt Dr. Sergei Rachkov met with the Chairman of «Sakkal Trading» company Mr. Chukri Sakkal.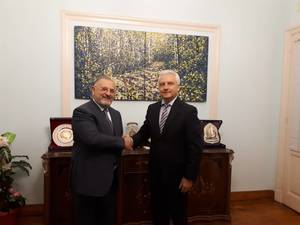 A number of specific steps were discussed aimed at promoting Belarusian cosmetics and pharmaceutical products in Egypt and other countries in Africa and the Middle East, in particular, obtaining product registration, recognizing Belarusian quality certificates, customs and tariff regulation issues.
The possibilities of creating joint production of cosmetics in Egypt, the use of modern methods of marketing and sales, the prospects for reciprocal supplies of Egyptian goods to Belarus were considered. It was agreed that the Embassy would assist in achieving these goals.