Political cooperation
The diplomatic relations between the Republic of Belarus and the Arab Republic of Egypt were established on February 1, 1992.
The Embassy of Belarus in the Arab Republic of Egypt was opened in August 1997.
President of the Republic of Belarus H.E. Aleksandr Lukashenko visited Egypt in June 1998, January 2017 and February 2020.
In September 2015, the President of Belarus met with the President of Egypt at the 70th session of the UN General Assembly in New York.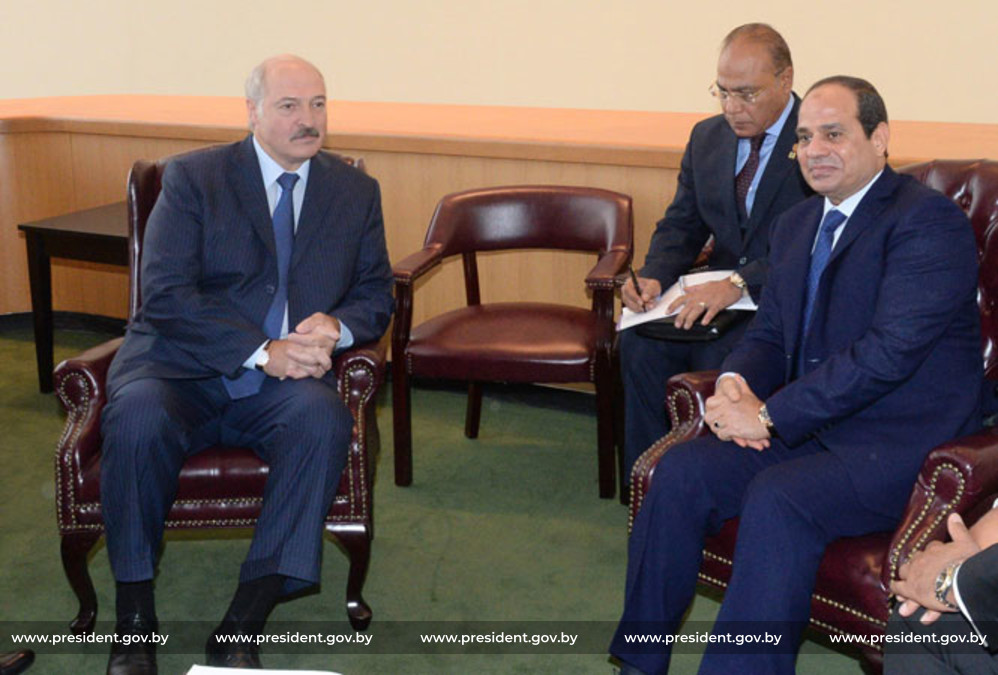 In June 2019, the first visit of the President of the Arab Republic of Egypt H.E. Abdel Fattah Al-Sisi to Belarus took place.
Egypt was visited by Deputy Prime Minister of the Republic of Belarus (1996), Minister of Foreign Affairs (1998, 1999, 2006, 2009), Minister of Industry (2017 and 2019), Minister of Agriculture and Food (2019), Minister of Natural Resources and Environmental Protection (2017), Minister of Antimonopoly Regulation and Trade (2003, 2016 and 2018), Minister of Communication and Informatization (2018), Minister of Culture (2004 and 2008), Minister of Internal Affairs (2006), Chairman of the State Committee for Science and Technology (2000), Chairman of the State Military Industrial Committee (2015, 2018 and 2019).
Ministries of Foreign Affairs of Belarus and Egypt held five rounds of political consultations at the deputy ministers level.
In December 2014 and February 2017 Foreign Ministers of Belarus and Egypt exchanged messages between each other.
In February 2015, 2017 and 2018 they held meetings within the framework of the Munich Security Conference.
The legal framework of the bilateral relations consists of 50 international treaties, including Agreement on the basis of the relations and cooperation between Belarus and Egypt, Trade agreement, Agreement on economic, scientific and technological cooperation, Agreement on encouragement and mutual protection of investments, Agreement on avoidance of double taxation, Agreement on cooperation in science and technology, Agreement on cultural cooperation, Agreement on cooperation in crime prevention and mutual legal assistance in criminal matters, Agreement on cooperation and mutual.